The world is supposed to end tomorrow, so I took the day off. If it's my last day on Earth, I don't want to spend it trapped at work. Plus, this week of work has been an absolute waste of time. No one wants to be working. It's like those last few days of school before Christmas break, when all you do is trade cookies and candy and presents and then watch movies for the rest of the day, but it's worse this year because maybe the world is ending? So why bother with anything, right? Joe and I were recently discussing the impending apocalypse BECAUSE THAT IS WHAT WE DO:
Me:
You know, if you and I could still be together afterward, I don't think I'd really mind if the world ended on Friday.
Joe:
Me neither.
Me:
And I'd want our friends and family to be there, too.
Joe:
Well, they probably would be, what with the world ending and all.
Me:
Only if we all end up in the same Hell dimension.
Joe:
That's true.
Me:
I don't really believe in Hell, though.
Joe:
No?
Me:
No. I'm pretty sure we all just blink out of existence in the end.
Joe:
WOW.
I don't really believe that, though. I don't think. I don't know what I believe. I mean, death is so totally weird, right? Like, one minute you're you, in your body, just hanging out like always, the next moment you're just gone? What IS that? Where did you go?
Right after my grandma died, (and I don't remember how this came up) I found out that some people believe that when you go to Heaven, you don't ever see anyone you knew when you were alive. And I was already depressed but that knocked the wind out of me. Why would anyone want to believe something like that? It's so depressing. I have a problem accepting
any
idea about the afterlife, really, because no one knows for sure. But I have some ideas, I guess? Though, they're less ideas and more, just, what I WANT the afterlife to be like. But first let's start with what I don't want:
1.
I don't want to get to Heaven and have it be full of strangers, like some awful party where I don't know anyone and I'm forced to make awkward small talk until the end of eternity (which I think never ends, maybe?) but then again, if I end up in a place like that, it's probably not Heaven.
2.
I'd like to not just blink out of existence. I've grown quite fond of existing, so I'd like to continue to do so in some way.
3.
I don't mind the idea of reincarnation, though I'd prefer not to be reincarnated as a dung beetle or a Tea Partier or something.
Here is what would be nice:
1.
That I get to hang out with all the people (and pets!) I've known in my life who've died.
2.
That I get to hang out with all the other people in my life, but only ones I like.
3.
That I can fly.
4.
TARDIS PARTY.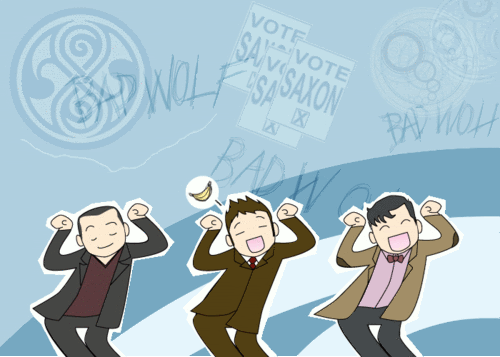 That's really all I need. I do like the idea of Heaven that's presented in that movie
Defending Your Life
. Except for the whole "being on trial" thing. And the possibility that you'd miss out on going to Heaven and have to go back to stinky Earth-life.
So anyway, see you all in Heaven on Saturday (FINGERS CROSSED)! I'll bring the tequila because NO HANGOVERS IN THE AFTERLIFE THAT'S WHY.