It's amazing what a difference a good night's sleep makes. I mean, not really. It's not amazing at all. It's actually pretty obvious. Everyone knows sleep is good. Duh. Long-time readers of this blog (or even not-so-long-time readers) might remember that I often have trouble sleeping, sometimes going through long stretches of time without getting a good night's sleep, which sucks and also double sucks because when I don't sleep, it's all I want to talk about and THAT IS SUPER BORING. But boring enough to put me to sleep? No.
Sometimes my sleep trouble is Max's fault, for sneaking onto our bed while we're asleep and then trying to curl up on my pillow. Sometimes it's Phoebe's fault, because it seems like 3am is her favorite vomiting time and, you guys, vomiting time is LOUD. Sometimes it's Joe's fault (IT SO IS) for snoring or moving too much or accidentally elbowing me in the head or, really, for just being asleep when I'm not asleep HOW RUDE NO FAIR.
But most of the time, it's no one's fault but my own because I can't turn my brain off. I can't make myself relax because you know what the least relaxing thing in the world is? Trying to tell yourself to relax. Especially if you're already worried that you're not going to get enough sleep. It's easy to tell yourself in the bright light of day that all you need to do is close your eyes, focus on your breathing, and you'll relax, but when it's nighttime and you're stressed about work the next day and you're brain-yelling at yourself to RELAX BREATHE IN COUNT TO FOUR BREATHE OUT COUNT TO FOUR RELAX RELAX RELAX...you're never going to fall asleep. SORRY BUT YOU'RE NOT.
Sunday was one of those nights for me. I had no good reason to not be able to fall asleep. If I fell asleep at all, I woke up an hour later, hoping that I could just fall right back to sleep but NO. I finally fell into a nice sleep around 5:30, only to wake up an hour later with the alarm, wanting to cry and sink back into bed instead of facing the day.
What do you guys do if you can't sleep? Do you get up and do stuff? Or, like me, do you just lie there, doing sad math until your alarm goes off? You know, like this: "OK, if I fall to sleep now, I can still get five hours of sleep...I can live on that. It's only one day, and then I can come straight home after work and take a nap...oh, shit...OK, if I fall to sleep NOW, I can get four hours of sleep. People live on that all the time. It's fine. Doctors don't sleep for like 48 hours straight and they operate on people so I can definitely sit at a desk all day on four hours of sleep. It's fine. OH SHIT THREE HOURS OF SLEEP I MIGHT AS WELL JUST GIVE UP AND FREAK OUT FOR THE REST OF THE NIGHT."
And so on.
There's got to be a better way to use this sleepless time. Should I get up and do something productive? Try to read a book? Reading in bed always makes me sleepy. Should I just give up and get up at 3am to work out or something? Or will that just lead to me falling asleep on the way to work? HELP ME, INTERNET, YOU'RE MY ONLY HOPE. Because this was me when I got home from work yesterday: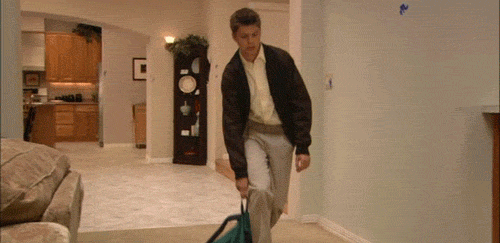 and that is unacceptable.