To be honest, I completely forgot about writing the list of
Buffy
Season 3 episodes you should watch until today (when I'm a third of the way through Season 4) and I think that's because YOU SHOULD WATCH ALL OF THEM, OK? Especially if The Mayor plays a part.
Oh, you don't like that answer? TOO BAD. No, wait! Come back. Please come back. I'll try to narrow it down. That might mean only cutting one episode, but that's 44 minutes of your life you'll have to dedicate to something else (LIKE YOU HAVE SOMETHING BETTER TO DO THAN WATCH
BUFFY
) so you're welcome, OK? UGH.
Must Watch:
Dead Man's Party:
This episode makes me so uncomfortable, but in, like, the best way.
Faith, Hope, and Trick:
Faith (yay for now), Hope (BIGGEST MEH EVER), and Trick (!!!)
Homecoming:
SO GOOD. Cordelia is on fire in this one. (Not literally).
Band Candy:
OH GOD YES, BAND CANDY.
Revelations:
Uncomfortable again and not necessarily in the best way.
Lovers Walk:
[whimpering sounds]
The Wish:
ANYA ANYA FUCK YES ANYA.
Helpless:
[more whimpering sounds]
Bad Girls:
I just realized how cringe-y this season is. Every episode gives me uncomfortable feelings.
Consequences:
Important, I guess, if consequences are your thing.
Choices:
Important, I guess, if choices are your thing.
The Prom:
AKA
The Tears
.
Graduation Day, part 1:
HELL.
Graduation Day, part 2:
YES.
Episodes I Don't Really Like But That You Should Watch Anyway On Account of STORY:
Anne:
Meh. Angsty.
Amends:
Meh. ALL THE ANGST. But important angst.
Enemies:
I don't really remember this one and was too lazy to read the episode synopsis.
You Should Really Watch Because They're Awesome:
Gingerbread:
This one is fun and kind of important for later (see: Amy).
The Zeppo:
This one is very Xander-centric, which is good or bad depending on your Xander-feelings. I understand that some people don't like Xander. Well. No, I don't UNDERSTAND that, really, but I guess it's still true that some people don't like him.
Doppelgangland:
OH GOD YES, DOPPELGANGLAND. PLEASE WATCH THIS ONE.
Earshot:
I remember this one being a big deal because of Columbine. I think this one, along with
Graduation Day
, aired at a later time because of all the awkward similarities? I don't know, that was a million years ago and I barely remember this morning.
You Don't Have To Watch, I GUESS:
Beauty and the Beasts:
OH WAIT JUST KIDDING, you have to watch this one because of something I forgot about until I read the description on Wikipedia. So. I guess you could skip it and just read Wikipedia but where's the fun in that?
Also, can I talk about something spoilery that came up in early season 4 that I never noticed before and therefore BROKE MY HEART INTO TINY SHARDS AND I STILL HAVE NOT RECOVERED?
GIF Party for Spoiler Hiding!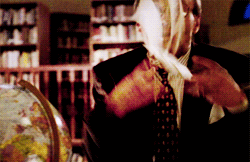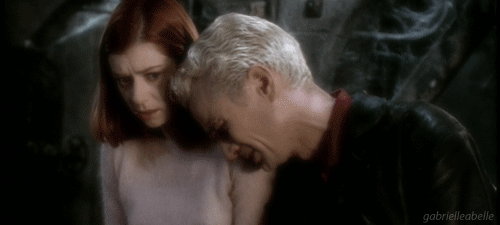 So in the Season 4 episode
Fear, Itself
, Oz starts wolfing out even though there's not a full moon (because his greatest fear is not being able to control that side of him?) and he runs away from Willow, who starts screaming, "OZ! DON'T LEAVE ME!"
AND THEN LIKE TWO EPISODES LATER HE LEAVES HER! STUPID STUPID VERUCA AND YOUR STUPID FACE! Ow, my heart pieces!